News — Toyota Camry ACV40
Posted by SING SPARE PARTS CO on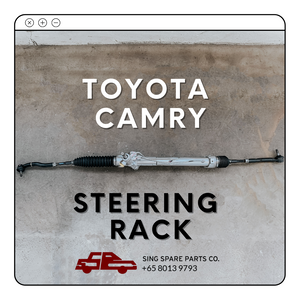 Steering Rack Toyota Camry Power Steering Rack and Pinion Power Steering System Steering Gears Shaft Self-Steering Assembly When you're driving and you hear a "clunking" sound coming from the front of your car, it's typically caused by a loose or worn out bushing. This sound is common with worn out stabilizer bar bushings, upper control arm bushings, and the steering rack mounting bushings.  If you hear this sound or anything similar to it, contact us as soon as possible as it indicates something in your suspension or steering is coming loose and needs to be repaired immediately. Driveshaft and steering...
Tags:

Car Steering Rack, Electric Steering Rack, Power Steering Rack, Rack, rack and pinion, rack and pinon steering, rack end, rack pinion, Steering Rack, Steering Rack and Pinion, Steeringrack, Toyota, Toyota Camry, Toyota Camry ACV40, Toyota Camry ACV41, Toyota Camry Steering Rack, Toyota Steering Rack
Posted by SING SPARE PARTS CO on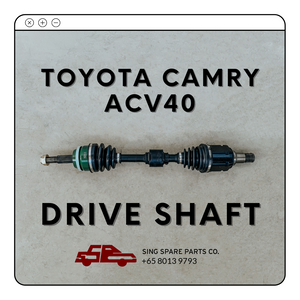 Drive Shaft Toyota Camry ACV40 Driveshaft CV Joint (Constant Velocity Joint) Can I change the CV boot only?  If the boot that seals the CV joint is damaged, the grease will leak out and contamination will set in, eventually causing the joint to wear out and fail. A severely worn out CV joint can even disintegrate while you're driving and make the car undrivable. It is not safe to drive with a damaged CV joint which is why it is recommended to change the entire drive shaft when the CV boot is torn.  Freddy Lim +65 8013 9793 www.singspareparts.sg The...