News — hydraulic steering rack
Posted by SING SPARE PARTS CO on
🎉 Say hello to Sing Spare Parts Co, the ultimate destination for premium steering racks that elevate your car's performance and safety. As industry leaders, we're committed to delivering seamless driving experiences with our advanced steering systems. 🚗 🏆 Quality & Satisfaction, Guaranteed! 🏆 At Sing Spare Parts Co, every steering rack is crafted with precision and undergoes stringent quality control to ensure top-notch reliability. We prioritize your satisfaction with our unwavering customer support. 🚀 Elevate your ride with Sing Spare Parts Co steering racks! 🚀 🔧 探索Sing Spare Parts Co - 无与伦比的转向机卓越品质!🔧 🎉 与Sing Spare Parts Co相遇,这是寻找卓越品质转向机的终极目的地,提升您汽车的性能和安全性。作为行业领导者,我们致力于通过我们先进的转向系统提供无缝驾驶体验。🚗 🏆 品质与满意度保证!🏆...
Posted by SING SPARE PARTS CO on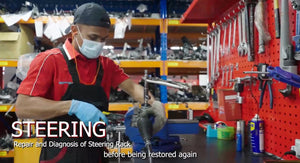 🚗Steering Racks: A Quick & Easy Guide for Singapore Car Owners 🌟 🔧Steering Rack Basics: The unsung hero of your car Controls vehicle direction 🔧Importance of Steering Racks: Precise steering control Comfortable ride Enhanced safety 🔧Common Issues: Loose steering Uneven tire wear Leaking power steering fluid 🔧Maintenance Tip Regular checkups and alignments Check power steering fluid levels Inspect for wear and corrosion 🔧Repair and Replacement: Know when to replace your steering rack Choose the right steering rack for your car Trust professional repair services   <Discover the joy of confident driving with Sing Spare Parts Co. > 💪We're dedicated...