News — Kia Cerato Forte
Posted by SING SPARE PARTS CO on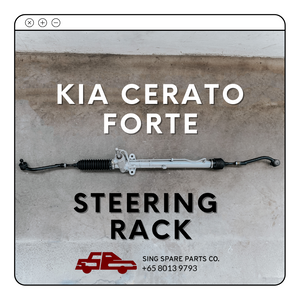 Steering Rack KIA Cerato Forte Power Steering Rack and Pinion Power Steering System Steering Gears Shaft Self-Steering Assembly How long can you drive with a bad rack and pinion?  It is definitely not safe to drive with a bad rack and pinion because you no longer can control your vehicle and keep it in a straight line. There would be so much free play and your vehicle would just wander on the road. This could be very dangerous for you and the other drivers. Driveshaft and steering rack specialist since 1980 www.singspareparts.sg Freddy Lim +65 8013 9793 http://wa.me/80139793 www.singspareparts.sg The...
Posted by SING SPARE PARTS CO on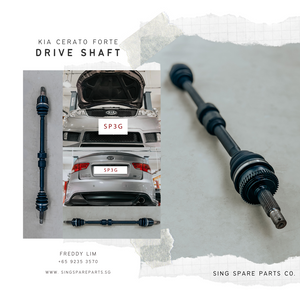 How serious is a drive shaft problem?  A broken driveshaft can prevent wheels from turning properly, giving you trouble when trying to make turns. This issue limits your overall control of the car. You need any issues that prevent you from driving the car correctly addressed right away for safe driving and continued use of the vehicle.  Get them repaired at Sing Spare Parts Co. as we have ready stock and keep up to date on the steering rack and drive shaft for every model of vehicle.  Freddy Lim +6592353570 www.singspareparts.sg The only company in Singapore with more than 40...
Posted by SING SPARE PARTS CO on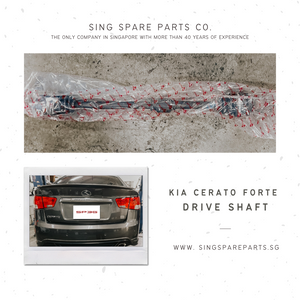 Kia Cerato Forte is nominated as Best Compact Car for the Money due to its outstanding combination of quality and value. But still, no matter how outstanding the car is, it's normal to have problems after regularly used for a long time. If you notice the intense shaking coming from underneath the vehicle, get your car's drive shaft to be checked as soon as possible at Sing Spare Parts Co because it's most likely to be the cause. Freddy Lim+6592353570www.singspareparts.sgThe only company in Singapore with more than 40 years of experience