News — Subaru Forester
Posted by SING SPARE PARTS CO on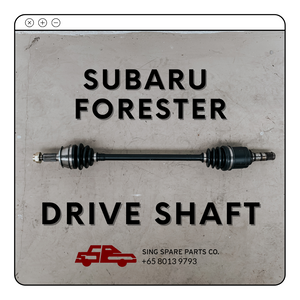 Drive Shaft Subaru Forester Reconditioned Driveshaft CV Joint (Constant Velocity Joint) When you turn the steering wheel and hear noises such as a clicking sound or popping sound, it's very likely you have a broken or worn CV joint. You can test this by doing the following:  Shift the gear into reverse  Turn the wheel all the way to one side Step on the gas pedal. You will be going in a circle, so make sure the area around you is clear. As you move backward in a circle, the popping sounds should get louder if you have a bad...
Posted by SING SPARE PARTS CO on
What happens if my drive shaft breaks while driving?  If an axle begins to fail while driving, your car will start to pull to one side as one wheel loses power. When the axle breaks completely its corresponding wheel will no longer turn and although the engine may still run, the car won't move. Get your drive shaft to be repaired or replaced at Sing Spare Parts Co. once you notice the symptoms of failing drive shaft such as excessive vibrations from the undercarriage before it's too late.  Freddy Lim +6592353570 www.singspareparts.sg The only company in Singapore with more than...