News — Suzuki SX4 Repair
Posted by SING SPARE PARTS CO on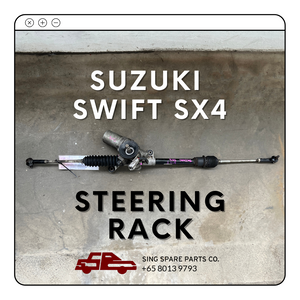 Steering Rack Suzuki Swift SX4 Power Steering Rack and Pinion Power Steering System Steering Gears Shaft Self-Steering Assembly Steering rack do not have a definitive lifespan. It depends largely on the steering rack design, car model, driving behavior, and road condition. To put in perspective, we have seen steering racks that have failed within a year, but also steering racks that are in perfect working condition even after ten years. But generally, most drivers will have to replace them once or twice throughout their ownership of the car. Driveshaft and steering rack specialist since 1980 www.singspareparts.sg Freddy Lim +65 8013...
Posted by SING SPARE PARTS CO on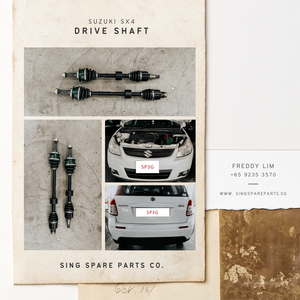 What happens if you choose the wrong drive shaft length? Drive shaft length is very important. The function of the slip yoke is to compensate for suspension movement. A shaft that is too long can bottom-out the slip yoke in the trans, causing damage. A shaft that is too short doesn't provide the yokes needed support and has potential to bind.  Having a hard time in determining which one is the right one for your car? We got you covered! Get your drive shaft to be replaced or reconditioned at Sing Spare Parts Co.  Freddy Lim +6592353570 www.singspareparts.sg The only...